How you react to demands for faster lead times, cost reduction and continued improvement in damage rates will determine how you will succeed in today's challenging market. The pressure to improve service whilst controlling costs has never been higher.
Damage adds no value to the delivery process, inconveniences the end customer and costs you money at a time when profit margins are as low as they have ever been.
Damage also gets passed from one party to another if the receiving party does not protect itself from such liabilities. Creating consistent handover standards and performing inspections offer protection.
We help you reduce damage and provide an excellent service to your customers. We provide protection against claims which should be assigned to others in the distribution chain.
Services for Logistics Service Providers
Click on any of the headings below to expand the information.
Quality is paramount in the logistics chain. High quality vehicle handling reduces damage, reduces costs, underpins lead times and helps provide the best service to your customers.
We provide a suite of services designed to help Logistics Service Providers improve vehicle handling operations in order to reduce damage, reduce cost and enhance the service you deliver to your customers.
Service elements include process and data assessments, operational auditing, operator training and the development of continual improvement processes. These services can be accessed individually or packaged together through our holistic management service.
Our team of experienced logistics quality and claims management experts can assess all aspects of rail, compound, vessel, port and transporter operations. We work within the new and second-hand vehicle sectors to ensure customer expectations of quality and service can be met.
The independent nature of our experts ensure autonomy and transparency against best practices developed over many years of experience across many vehicle brands throughout Europe.
Our approach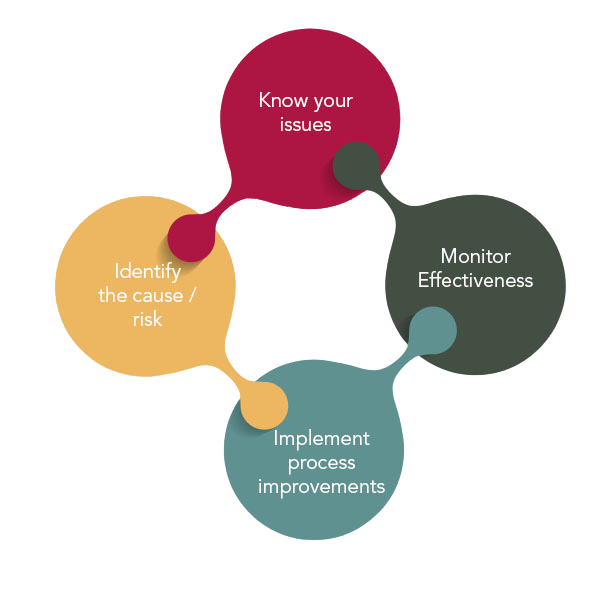 Know your issues
Assess whether your current internal quality management processes are able to meet your customers' expectations
Analyse your claims and damage data:

Discover damage trends
Deep dive analysis of markets, routes and brands
Identify high-risk routes or locations

Foresee and minimise potential damage risks in the surrounding environment
Provide catastrophic loss mitigation assessment and planning
Advise on compound layout, management and planning to mitigate damage risks
Identify the cause / risks
Undertake root cause analyses

Based on known damage issues and our expertise in vehicle logistics, we identify the root causes of damage claims
These can support performance reporting back to OEM clients as required

Perform operational audits and/or training towards targeted damage reduction:

Existing quality management processes
Compound / equipment conditions
Handover process and inspection standards
Vehicle handling
Loading, securing and unloading practices for all modes of transport
PDI condition, planning and vehicle handling
Vehicle wash / maintenance compliance
Identify unsafe working practices

Offer corrective action advice including Cost Benefit Analyses and progress tracking
Implement process improvements
Provide improvement advice or training for self-auditing
Provide or assist in the provision of internal quality manuals and employee training material
Support the management of vehicle handling practices to ensure operations are assessed and adhere to internal and customer quality requirements
Monitor effectiveness
Assess the change in damage claim trends over time
Compare self-auditing results against recent damage trends
Conduct self-audit compliance checks
The benefits of using Sevatas
Informed, experienced claims and logistics quality experts with a deep understanding of your requirements
Greater understanding and transparency of your internal quality management processes
Damage and cost reduction through identification of your issues, risks and advice for cost effective process improvements
Help to provide your customers with an excellent service experience
Contact us for more information on how we can support you.
Inspection of vehicles to identify damages at handover, establish liability and defend claims
Handover inspections identify if, where and when damage occurs.
Sevatas provides handover inspection related services typically to logistics service providers such as vessel operators, port operators, rail and road transporters. Our services also support manufacturers, distributors and insurers identify where damages are occurring.
Large scale movements of vehicles provide an environment where damage can occur. Independent inspections provide companies with protection from potential accusations of liability relating to incurred damage.
All inspections are delivered to high Sevatas quality standards, which we believe is the best in the sector, which also provides valuable data for future damage reduction activity.
If clients require tailored inspections to meet individual or OEM standards, we can do this. We have robust training processes and a comprehensive self-audit regime to ensure our inspections are as consistent and as accurate as they can be.
Being the 'eyes' of the client on the ground, Sevatas inspectors also aim to identify issues and possible causes of damage before they happen.
Data capture
Our in-house data capture units are at the forefront of sector technology and capture a wider range of data to enable better analysis and event reporting. To learn more, click here.
Contact us to find out about how we can support you.
When a vehicle requires complex repair processes to remedy damages sustained en route, it is possible the repairer may not identify the most cost effective way to complete the repair.
Our Engineering service is provided by our sister company, Contior Automotive Assessors. Click here to find out more about Contior.
Engineering involves the thorough review of repair estimates submitted by repairers / dealerships to identify opportunities to reduce the repair costs by amending estimates and agreeing more appropriate repair methods. We do this whilst at all times maintaining our commitment to the manufacturers' approved repair processes and new vehicle quality standards.
Contior's Engineers are all proven experts in vehicle repair processes and new vehicle quality standards. We work with repairers to identify cost savings collaboratively and seek opportunities to educate repairers on the best repair processes to use.
Our service is generally delivered remotely from the desktop utilising photographs, videos and specialist estimating software. We also have the option to visit the repairer in person if required.
Examples of costs savings include:
Identifying ways to repair, rather than replace broken parts or panels
Encouraging the use of 'smart' repair processes such as cold dent repairs, polishing and brush touch ups
Identifying examples where the need to blend painted panels into neighbouring ones is removed
Ensuring correct part prices and discounts are applied
Contior's services is also able to dramatically reduce the timeframes associates with authorising the repairer to proceed. This minimises the delay a damage causes in delivering the vehicle to the final customer.
Service options
Our Engineering service can work in the following ways:
For our current Manufacturer, Distributor or Insurer clients: As a 'bolt-on' to an existing Claims Management & Cost Recovery service
For Manufacturers, Distributors or Insurers: As a stand-alone service to work in conjunction with your own claims management arrangements
For Logistics Service Providers: As a stand-alone service to support your own processes to validate claims and your potential liability
The benefits of using us
Sector leading experience, expertise and knowledge
Multilingual validation capability
Cost reduction through the identification of appropriate repair processes
Improved dealer service; swift repair authorisation to minimise delays to the final customer
Contact us to find out more about how we can support you.